A Daviess County war veteran figures prominently in "Dateline NBC" program to be nationally broadcast in 2006. The hour long documentary tells the story of several men from "Hotel Company," a unit of young marines who fought together at a place in Vietnam called Hill 881. Danny Critten of Gallatin was one of them — and one of the handful of veterans who share their story in the documentary entitled "A Few Good Men."
The idea for "A Few Good Men" came about by a chance encounter between television crew members and a homeless man who began telling a story about his experiences in Vietnam and a place called Hill 881 on April 24, 1967. This led correspondent Dennis Murphy on a search for members of "Hotel Company."
Show producer John Block called Danny, initially indicating that a show filmed in New York might offer a chance for the combat veterans to reunite. The opportunity immediately interested Danny. But Block later called back and offered instead to travel to the Critten cattle farm located along Highway 6 just west of Gallatin.
"That really disappointed me, but I tried not to show it," Danny says. "They came out and stayed with us for a couple of days last August. We didn't know when they would put the show on television. I haven't gotten into contact with anyone else from the Company so far, and I really don't expect to now, either."
NBC Dateline provided a complimentary videotape of the documentary to this newspaper earlier this week. The program describes a U.S. victory which evolved from a Vietcong ambush. It also examines the post-war experiences of a handful of veterans selected from over 35 individual interviews.
The program reveals how several veterans of Hotel Company are still battling the memories.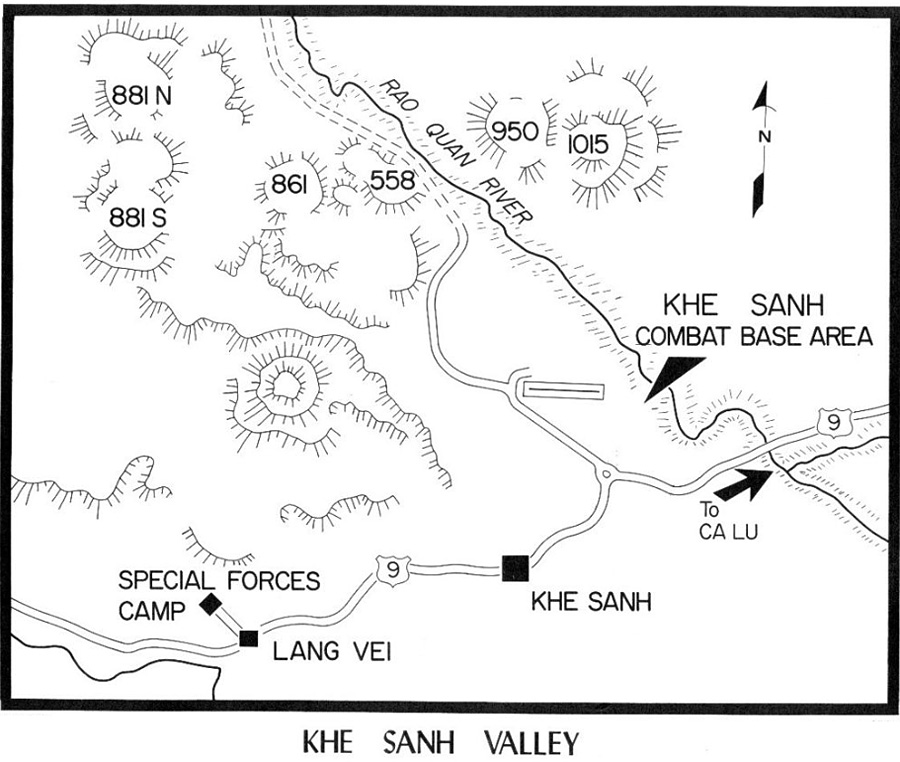 "We spoke to a number of men who haven't talked about that time of their lives in over 30 years," notes producer John Block. "And yet, once they finally opened up, their memories were fresh and raw. It was as if the battle at Hill 881 happened three weeks ago, not three decades ago."
Lieutenant Tom Givven of Los Angeles, one of the four platoon leaders of Hotel Company, was the first member contacted by Dateline. "I asked him to tell me about the battle at Hill 881," Block says. "A minute into his story, I unexpectedly heard silence on the phone. I realized he was crying."
The Dateline filming crew spent two days with the Critten family.
"It was very interesting and entertaining for us, you might say," Danny relates. "We mostly just visited. The camera man and sound man were from a resort area in California. They told us of their many experiences. They had filmed episodes of COPS, including those situations where they'd have to wear flak jackets because the bullets were being shot in real live situations. They were also at the O.J. Simpson trial and even filmed at Waco.
"The camera the packed around cost over $100,000. They flew into KCI and rented a van which was packed with equipment they used while they stayed here."
The first day of filming, Aug. 20, was spent with the Crittens attempting to live through a normal day. Naturally, the camera and microphones made things awkward. It wasn't long, though, before the Crittens adjusted — which is exactly why the crew arrived before correspondent Dennis Murphy.
"We were sitting around the picnic table having just barbecued some hamburgers," Danny recalls. "We also served vegetables and melons all grown on our farm. That impressed them to no end. But when Dennis Murphy drove up, they jumped and grabbed their equipment to tape our first handshake and just about everything else we did from then on."
They popped up again to film son Eric as he drove around back, attempting to avoid attention. They coaxed Cindy into a "natural" setting, asking her to read a college paper she'd written about her father's war experiences. Pastoral serenity was marred, however, by bellowing calves that had just been weaned.
"Can't you make them stop that?" asked the sound man earnestly. Karen was also a distraction to the professionals when she attempted to finish washing dishes while Dennis Murphy interviewed Danny.
The Crittens' front room was converted into a studio for the segment focusing on Danny. Producer Block helped correspondent Murphy word questions. The session was filmed twice, first with the camera behind Murphy focusing on Danny and then vice versa.
Danny never hesitates when pressed about his military experience, not even about that fateful Sunday morning, April 30, 1967, when he fell with a Vietcong bullet wedged in his spine. He told correspondent Murphy about his part in the battle in detail although many, many details shared and filmed during the 2-day session were edited away.
"Dennis Murphy is an easy guy to talk to which is, I suppose, his job," says Danny. "If someone asks, it has never bothered me to talk about Vietnam. But this was kind of scary to me, sitting around talking with these guys for two days.
"Right after they left, I began thinking back through all that was said and I worry about giving the wrong impression or hurting someone else's feelings about things that happened so long ago. And yet, for me, Vietnam doesn't seem so long ago at all."
Danny would especially like to visit again with the two men who rescued him while the battle raged. He recalls how they each grabbed one of his arms to drag him over the crest of a hill to safety. He never passed out. He remembers being carried in a canvas gurney for nearly a mile with crop stubble painfully jabbing into his injured back.
He was taken by helicopter to a hospital in Da Nang. One lung had collapsed; the other, half collapsed. He spent eight cruel days there, coming to grips with his future before shipping back home to the Great Lakes Naval Hospital in Chicago.
The Dateline program reveals how Danny had an early morning premonition that battle day. It doesn't mention how Danny's father also shared in that premonition half a world away, of how Danny's father spent that Sunday walking the timber alone in prayer.
Telegrams reporting Danny's fate came slow. Actually, nothing arrived telling family and friends of what had happened. Karen, working as a teller at First National Bank, just one day noticed a uniformed Marine as he walked through the bank's doorway. Somehow she knew he was coming to talk to her. She journeyed to Chicago not sure of Danny's condition.
The documentary reveals much about men unable to cope as well as Danny Critten. It tells several individual stories.
But it doesn't tell whatever happened to Billy Poteat of North Carolina, one of Danny's close friends. Or about David Wall of St. Louis or of so many others. It doesn't tell how those Marines watched our B-52 bombers repeatedly hit Hill 881, only to see the Vietcong emerge from bamboo-braced tunnels to wave the bombers good-bye.
Obviously, an hour show can't tell it all.
"David Wall was one of the boys who packed me out after I got hit," Danny says. "We once spent a week together and reunited again later but I haven't heard from him since. I saw Billy Poteat about a year after I got out of the hospital years ago, before we started our family.
"Last summer I got a call from Steve Burnup from Arizona. He told me he was still suffering, that flashbacks caused him all sorts of troubles and family problems but he explained that everything seemed to be OK after he found Jesus.
"A Few Good Men" airs at 9 p.m. Friday, March 20, on Dateline NBC. For more than 125 million Americans born too late to know what happened in Vietnam, the story of Hotel Company and the battle of Hill 881 is an untold story. For the rest of us and especially for those who know Danny Critten, it's a story with lessons worth remembering.
— by Darryl Wilkinson, Gallatin North Missourian